The Three Card Poker strategy guide
Three Card Poker has quickly become a casino standard. In the United States, it's the most common of recently developed poker-based table games, and it's becoming a player favorite at online casinos, too. It's an easy game to play, but a little knowledge, skill, and strategy are needed for the maximum shot to win. This guide was written by Trusted Casino to teach you how to play Three Card Poker and share with you the most important tips and basic rules.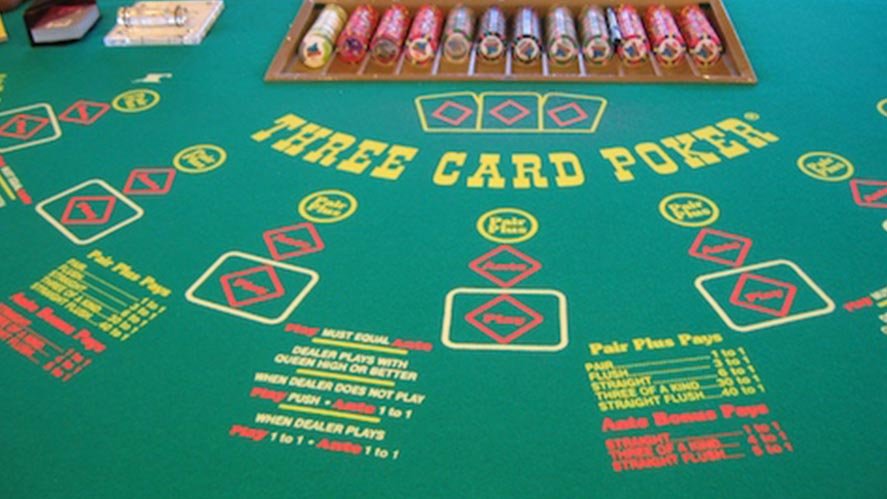 The history of 3 Card Poker
The casino variant of Three Card Poker was first created by Derek Webb in 1994 and patented in 1997. Webb's goal was to create a version of poker that played at the speed of other tabletop games. It was important for Webb that he correctly combined three important factors for any casino game: the rules of the game were easy to understand, the payouts were large enough to attract players, and the casino edge was enough to interest the casino owners.
Webb started a business called Prime Table Games to market the game in both the United States and the United Kingdom. The British Casino Association, now known as the National Casino Industry Forum (NSF), suggested that Webb first get some experience in the US, as there are rules in the UK that prohibit such board games and his bid was not strong enough to convince regulators to do significant changes to their rules and regulations for the new game.
The first to accept the game was Barry Morris, vice president of Grand Casino Gulfport in Mississippi after Webb ran unsuccessful deals with casino owners in Reno, Las Vegas, and Atlantic City.
How to play?
The basic information
First, you need to understand how the game table is designed to make it easier to comprehend the rules of the game. The table layout includes:
The Three Card Poker logo.
Three card-shaped areas in front of a croupier where he places his cards.
A round betting spot marked "Pair Plus."
A diamond-shaped betting spot marked "Ante".
A card-shaped betting spot marked "Play."
Pay tables for the Pair Plus bet and for ante bonus payoffs.
A brief explanation of three card poker rules.
One corner of the table next to the dealer will have a placard that shows you the minimum and maximum bet.
The rules
There are two main ways to play at Three Card Poker: Ante-play and Pair Plus. You can choose whether to play Ante-play, Pair Plus, or both.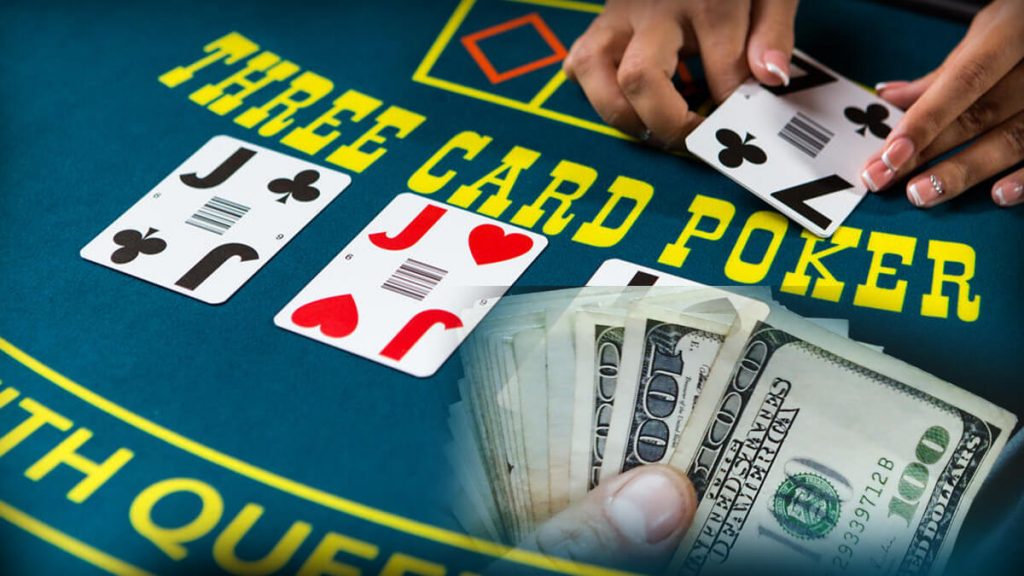 To play Ante-play, you begin by putting a wager in the triangular ante space. To play Pair Plus, you need to start by setting a wager in the circular Pair Plus area. The dealer then deals each player and himself three cards, face down. When dealing is finished, you may look at your cards and value the chances of success.
If you choose to play Pair Plus, you need to do nothing else. There is no extra wager or choice to make. If you are playing Ante-play, you must select whether to play or fold. If you play, you must make a play bet equivalent to your ante. They must be identical in size.
If you bet, or if you are playing Pair Plus and have a winner, put the cards face down next to your chips. If you do not make the play bet and you do not have a Pair Plus winner, place them in front of your bets to indicate to the dealer that you are folding.
Ranking of hands
Three Card Poker is based on stud poker, but odds do differ when hands consist of three cards. Because the chances are different, the hand rankings are slightly different too. You'll get straights rarer than flushes. Besides, they outrank them. In five-card games, flushes outrank straights. So, it's important to know the ranking system to not mess up seriously when playing with real people.
There is the ranking system of hands:
Straight flush
Three of a kind
Straight
Flush
Pair
High card
There is no such thing as a full house in Three Card Poker, nor, of course, can you get four of a kind.
Bonus payments
In Three Card Poker, players have the opportunity to receive a bonus payment, and for this, they do not need to place an additional bet — they just need to present one of the bonus combinations to the dealer. These include straight, three of a kind, and straight flush. The bonus is paid regardless of whether the dealer has a playing combination, as well as its strength.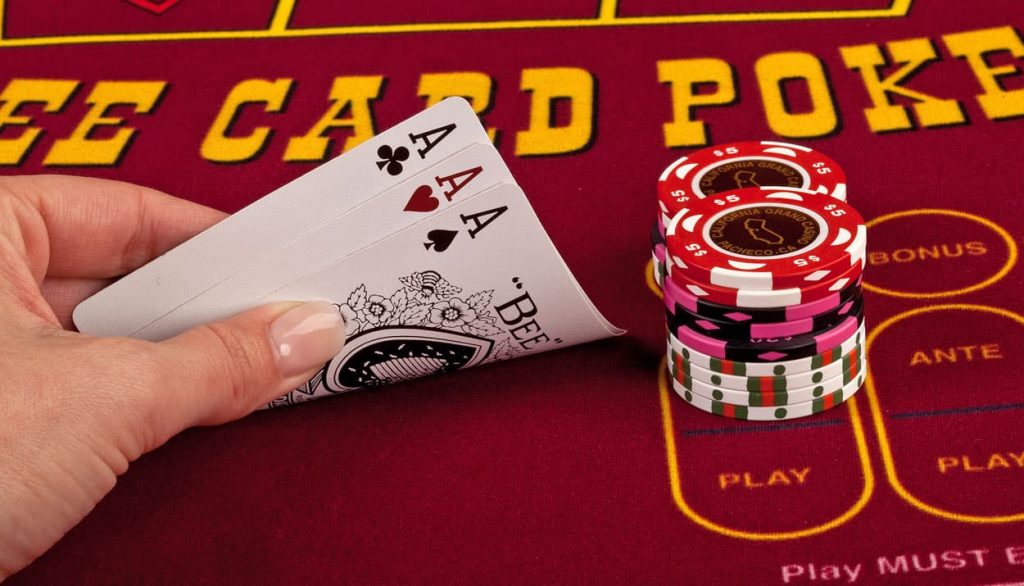 Bonus payouts may also vary and below is a table with a range of odds.
Straight Flush (straight flush) — 5-4: 1.
Three of a Kind (tris, three) — 4-3: 1.
Straight — 1: 1.
Where to practice?
You can play for free and improve your skills both at instructional sites and at social casinos. Besides, the majority of online casinos offer demo mode in which you can practice without losing money on bets.
The same goes for instructional sites. Most will supply you with lots of free credits you can spend on bets. As you play, instructional sites will warn you in case you make a strategic mistake.
We advise you not to ignore these options. The experience and sharpened skills may come useful in real games.
The tips
Yes, skills and experience will help you win more often and leave the casino with a full wallet. But some things you just need to know to significantly increase your chances of success.
The optimal strategy is to place a call (bet) only if the cards are Queen, 6, and 4 or better. Using this strategy reduces the house edge to 3.37%
About 25.6 percent of hands are winning combinations of a pair or better.
Pay tables vary in different casinos, but all start at 1-1 payoffs on a pair.
When comparing paytable, you get more with bigger payoffs on more frequent hands, so games that pay 5-4 on straights and 4-1 on flushes have lower house edges than games that pay 6-1 on straights and 3-1 on flushes.